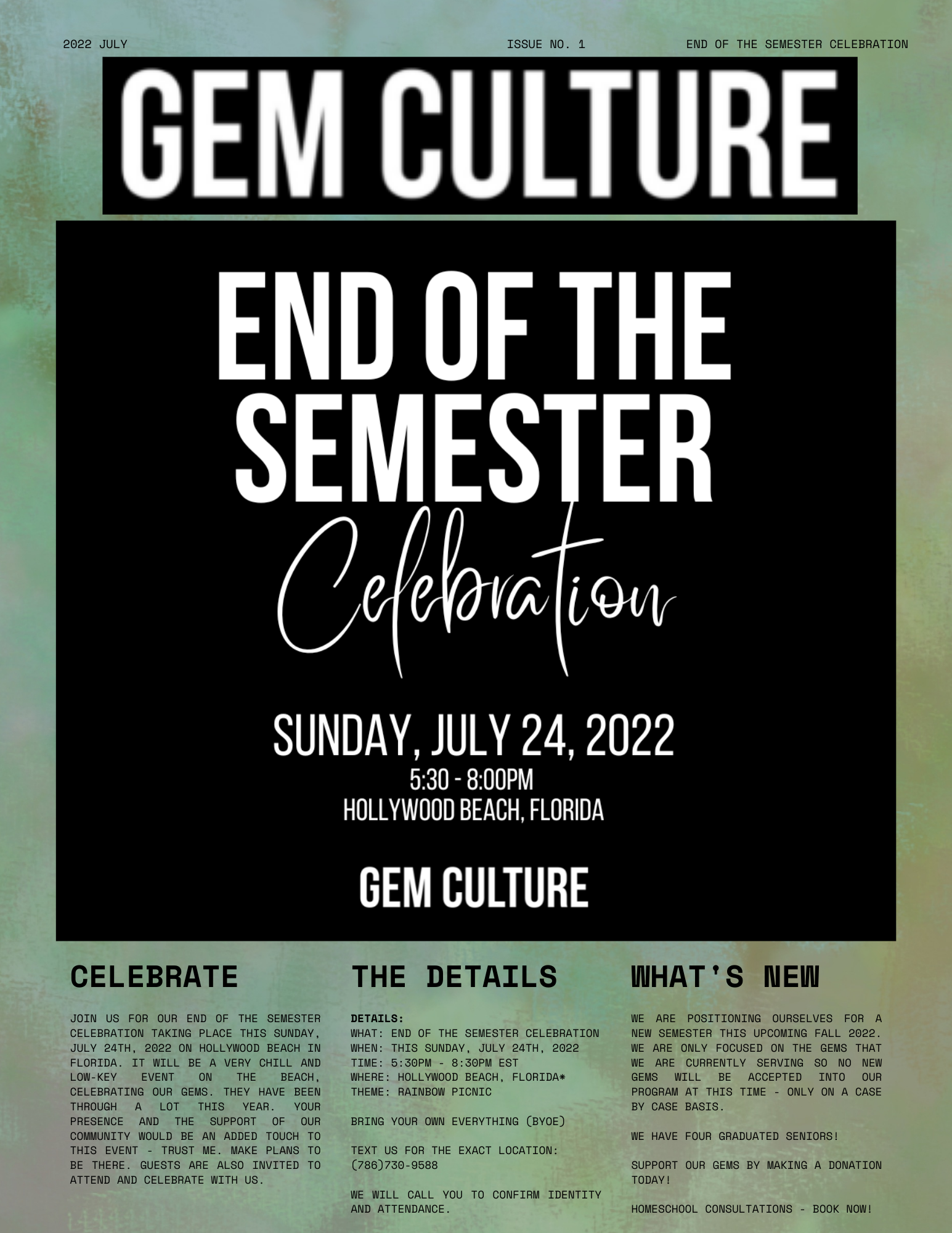 This communication is to notify you of GEM CULTURE's End of the Semester Celebration taking place this Sunday, July 24th, 2022 on Hollywood Beach in Florida. It will be a very chill and low-key event on the beach, celebrating our GEMS. They have been through a lot this year. Your presence and attendance would be an added touch to this event - trust me. Make plans to be there. They will thank you for it. I know because I've been talking to them. Guests are also invited to attend and celebrate with us. 
Details: 
What: End of the Semester Celebration 
When: THIS Sunday, July 24th, 2022 
Time: 5:30pm - 8:30pm EST 
Where: Hollywood Beach, Florida* 
Theme: Rainbow Picnic 
PLEASE NOTE: 

- We are asking that everyone arrives within the 4:30-5:30pm hour to assist with setting up and arranging their seating area. We plan to start the celebration at 5:30pm EST. 
- This is a BYOE (Bring Your Own Everything) event and is potluck style. Bring your dish(es) for everyone to share. Bring your own chair/blanket. Bring your own drinks. We will only be providing water. 
Ever been on the beach as the sun sets? It is everything! This event is sure to be a very special one and was the idea of our GEMS. Please kindly support this vision and initiative! 
If you would like to assist with this event, make a donation and/or need to get in touch with me, please feel free to reach me here: (786)730-9588. You must also text for exact event location. 
Thank you to everyone in advance for showing up (however you do) and for helping to make this a very successful event. IT TAKES A VILLAGE! 
Peace and Love, 
RIMIDI 
GEM CULTURE, CEO