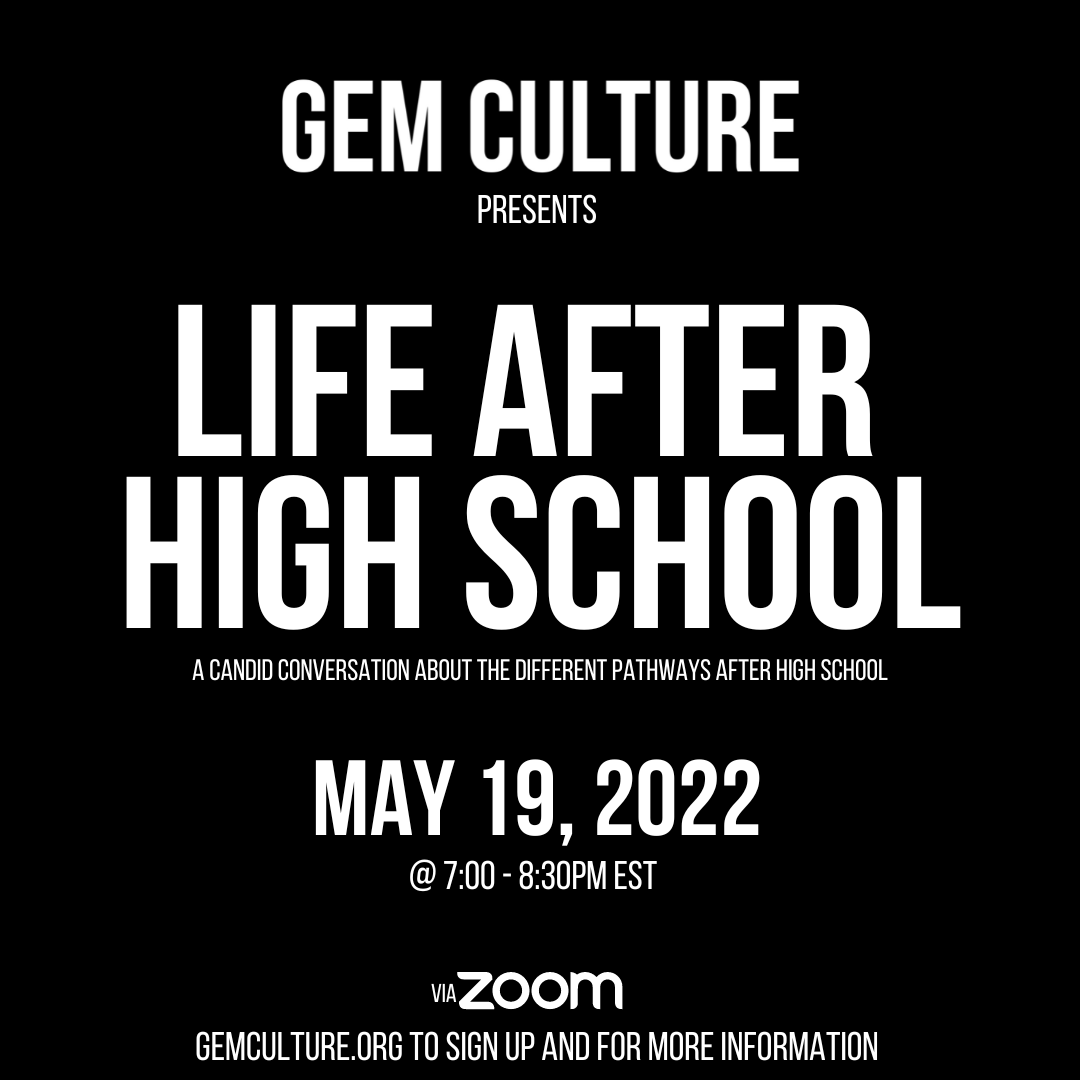 GEM CULTURE 
and friends 
PRESENTS: 
LIFE AFTER HIGH SCHOOL 
a candid and interactive virtual conversation exploring
the different pathways that are available to take after high school. 
Date: Thursday, May 19, 2022 
Time: 7:00 - 8:30pm EST 
Location: via Google Meet
Google Meet link will be sent after registration is completed.
Click here to register and to gain access into the conversation.
EVENT BRIEF: 
With the pandemic, mental health crisis on the rise, war, inflation, puberty, social media and a slew of other things on their plate, high schoolers this year may have missed out on the crucial guidance necessary to guide them through the next phase of their lives. We're not saying that somebody dropped the ball, but what we are saying is that there is a void that needs to be filled - a void filled of students with questions wondering where, why and how to start but, for some reason, are afraid or possibly distracted to speak up and ask. Which, by the way, is particularly strange in a time where youth access to any and all information available to them with just a click of a button. So, where is the disconnect? Or may be even traditionally, youth are given the same common, one size fits all route which is to go to college. College is definitely cool and works out for some but want about the some that it doesn't fit? Or maybe there are ways to possibly explore college as well as other things? Or maybe, just, maybe, you could take another route altogether? And if you were to take these routes, what are the steps? 
On Thursday, May 19th, 2022, high school seniors, high schoolers, parents, guardians and the community are invited to attend a candid and interactive virtual conversation exploring the different pathways that are available for them to take after high school. The conversation features panelist from our community who have all, after high school, taken different pathways that either have worked out for them or that they are still learning to navigate. Some things learned and the best advice given sometimes are in hindsight, while are executed best when planned ahead. What is defined as success for one or even groups of individuals may be unique to that particular group or individual. What works for one may not necessarily work for the other. In all fairness and consideration, we take a moment to dissect the different pathways that can be taken after one finishes high school, in addition to the traditional route of college but, also taking a deeper look at options such as attending a two year college, technical schools, completing internships, apprenticeships, day trading, becoming an influencer, creator or artist, beginning work or career, etc. Either way, this varied, transparent and authentic space for exploration and expression should offer a safe space and a brighter insight into what the next step in life looks like for them. Youth will have the opportunity to go into breakout rooms specific to their pathway of interest and they will have the opportunity to jump around and in between conversations until they find the conversation that resonates most with them. Youth will also have the opportunity to share their thoughts, build upon thoughts and/or to just simply tune into the topic of life after high school and what it looks like for each of them individually and as a whole. Featured panelists include: RIMIDI (CEO of GEM CULTURE/Teacher/Artist/Entrepreneur/), Fabi (GEM CULTURE Founding Member/Owner of Men Beni/Entrepreneur), Jon Kel (Poet/Realtor/Creative Director of Eccentrich), Raylyn Hayden (current college student), Zachary Rickends (Author), Prisca (Property Management & Leasing Manager), Keesha Morisma (Owner of Zhuzh & Home Sweet Home, Youth Mentor & Fashion Stylist), Tamika Spencer-Gaspard (CAP Advisor at Carol City Senior High School) and more to add! Individuals and organizations interested in supporting this initiative as a community partner/sponsor, panelist, volunteer and/or parent supporter are invited to join us by reaching us out to us as soon as possible. 
This event is hosted by GEM CULTURE, Inc and is in response to an urgent call and need to assist  and support our parents, guardians and community in the successful transition of our high schoolers into adulthood. Additionally, we seek to assist in the diminishing gaps and generational patterns that have historically been perpetual and have creates limits and barriers within groups of people, particularly those of color. 
GEM CULTURE is a non-profit youth organization based in Miami, Florida providing life development to BIPOC teenagers, ages 13-18, ensuring their successful transition into adulthood. 
All inquiries should be sent to: info@gemculture.org 
Website: gemculture.org